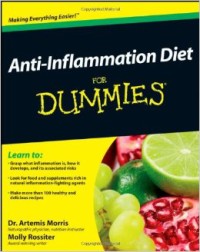 Anti-Inflammation Diet for Dummies
By Dr. Artemis Morris and Molly Rossiter
Trusted information and healthy, delicious recipes to fight inflammation
Low-grade inflammation is a condition inside the body, directly related to diet, that slowly wears on the body, facilitating chronic diseases like arthritis, diabetes, obesity, and heart disease. Also, the latest research has detected a correlation between inflammation and conditions like severe allergies, asthma, and even cancer.
Anti-Inflammation Diet For Dummies takes a preventative dietary approach to fighting inflammation by stimulating natural healing with anti-inflammatory foods and supplements. It reveals the causes of inflammation and provides a how-to prescription for eliminating it through diet changes, stress reduction, and healthy weight loss.
*Defines what inflammation is, how it develops, and its associated risks
*Outlines foods and supplements rich in natural inflammation-fighting agents
*100 healthy and delicious recipes loaded with anti-inflammatory agents
Anti-Inflammation For Dummies is an invaluable resource to help you make smart diet choices by avoiding problematic foods that instigate the inflammatory process, and arms you with knowledge and delicious recipes to get on the road to a healthier you.
Buy Book at Amazon