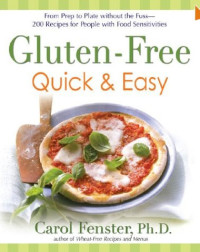 Gluten-Free Quick & Easy
By Carol Fenster Ph.D.
In Carol Fenster's gluten-free cooking classes, the most frequently asked question is "How can I get a meal on the table in the least amount of time?" So often, cooking gluten-free means spending hours in the kitchen-making everything from scratch. But now, Fenster reveals all her shortcuts, tips, and timesaving techniques from nearly twenty years as the gluten-free cooking authority. The Quick & Easy principles in this book will get cooks in and out of the kitchen with less fuss than ever before.
Buy Book at Amazon