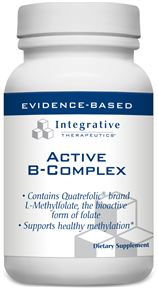 - 60 vcaps (10032)
Manufacturer: Integrative Therapeutics
Product Description:
Dietary Supplement
– Contains Quatrefolic® brand L-Methylfolate, the bioactive form of folate
– Supports healthy methylation*
Active B-Complex is a balanced, hypoallergenic B-complex formula featuring the active forms of vitamins B1, B2, B6, and B12. It also contains Quatrefolic®, the stabilized glucosamine salt of (6S)-5- methyltetrahydrofolate, a reduced and active form of folic acid. It is directly usable by the human body as a methyl donor, for example to support healthy homocysteine blood levels.*†
Recommendations: Take 1 or 2 capsules daily with meals, or as recommended by your healthcare practitioner.
Supplement Facts
Serving Size 2 capsules
Servings per container 30
Amount per 2 capsules
Thiamin (as thiamin HCl) (Vitamin B1) 50 mg
Riboflavin (as riboflavin and riboflavin-5'-phosphate) 50 mg
Niacin (as inositol hexaniacinate) 100 mg
Vitamin B6 (as pyridoxine HCl and pyridoxal-5'-phosphate) 50 mg
L-Methyltetrahydrofolate (as Quatrefolic® brand (6S)- 800 mcg
5-Methyltetrahydrofolate, glucosamine salt)
Vitamin B12 (as methylcobalamin) 1 mg
Biotin 300 mcg
Pantothenic Acid (as calcium D-pantothenate) 100 mg
Choline Bitartrate 250 mg
Inositol 250 mg
Other ingredients: vegetable capsule (modified cellulose), cellulose, calcium laurate, and silicon dioxide.
Contains no sugar, salt, yeast, wheat, gluten, corn, soy, dairy products, artificial coloring, artificial flavoring, preservatives, or ingredients of animal origin. This product contains natural ingredients; color variations are normal.
†levels already within normal limits.
Quatrefolic® is a registered trademark of Gnosis S.p.A.