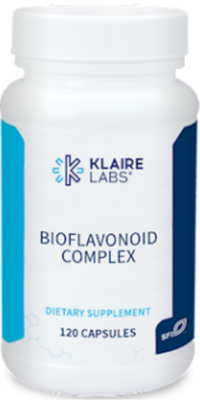 - 120 caps (CP1480)
Manufacturer: Klaire Labs
Product Description:
Flavonoids, commonly found in fruits and vegetables, are some of the most powerful antioxidants found in nature. The supplementation of bioflavonoids supports the body in the healthy management of oxidative damage which is known to contribute to the common symptoms of aging.* Of the bioflavonoids, Quercetin is the most heavily researched. Literature supports its ability to quench free radicals, protect DNA in the cells, and support healthy cardiovascular, neurovascular, and integumentary system functions over time.*
Dietary Considerations
Wheat Free
Dairy/ Milk Free
Soy Free
Preservative Free
Free of Artificial Colors/Flavors
Egg Free
Shellfish Free
Fish Free
Tree Nut Free
Peanut Free
SUPPLEMENT FACTS
Serving size:
2 Capsule
Servings Per Container:
60
Amount Per Serving
Quercetin (as quercetin dihydrate)(derived from fava d'anta tree)(Dimorphandra mollis) (flower bud extract) 500 mg
Citrus Bioflavonoid Complex (Citrus aurantium) (fruit)(standardized to 50% citrus bioflavonoids) 375 mg
Rutin (as rutin trihydrate)(derived from Japanese pagoda tree) (Sophora japonica) (flower bud extract) 150 mg
Other ingredients:
Vegetarian capsule (hydroxypropyl methylcellulose, water)
L-leucine
SPECIFICATIONS
2 capsules, 1 to 2 times daily with food or as directed by a healthcare professional.
If you are pregnant, nursing, have a medical condition, or taking prescription drugs, consult your physician before using this product. Keep out of reach of children.
Do not use if shrinkwrap is broken or missing. Store in a cool, dry place (59°F-85°F) away from direct light.
Produced under a strict quality management system in compliance with Good Manufacturing Practices (GMPs) and third-party quality certifications.