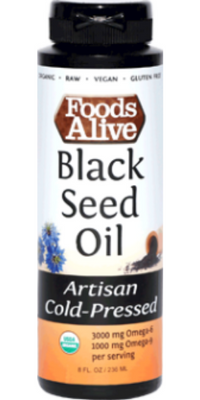 - 8 fl oz (64)
Manufacturer: Foods Alive
Product Description:
Artisan Cold-Pressed
Black Seed Oil, also known as Black Cumin Oil, is a remarkable and highly prized nutritive oil.
Black seed oil has been used for thousands of years by many cultures from around the world. Black seed oil and black seeds were found in King Tut's tomb and it is also known to have been used by Cleopatra, Queen Nefertiti and Hippocrates.
Black seed oil has a unique cell structure, and contains vitamins, minerals and essential fatty acids.
Supplement Facts
Specifications
Serving size: 1 Teaspoon 
Servings Per Container: 45
| | |
| --- | --- |
| | Amount Per Serving |
| Calories | 45  |
| Calories from Fat | 45  |
| Total Fat | 5 g |
| Saturated Fat | 1 g |
| Polyunsaturated Fat | 3 g |
| Omega-3 (ALA) | 1 g |
| Omega-6 (LA) | 3 g |
| Monounsaturated Fat | 1 g |
| Omega-9 (OA) | 1 g |
| Sodium  | 0 mg |
| Total Carbohydrate  | 0 g |
| Sugars  | 0 g |
| Protein  | 0 g |
| 100% Unrefined, virgin raw black cumin seed (nigella sativa) oil | |
Dietary Considerations 
Gluten Free 

Organic 

Non-GMO