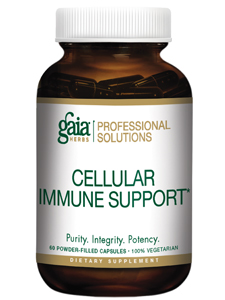 - 60 caps (G50217)
Manufacturer: Gaia Herbs (Professional Solutions)
Product Description:
EQP ® Gold Partner
Recommendations: Adults take 1 capsule 2 times daily, or as directed by your health care provider. Best results obtained with long-term use.
Supplement Facts
Serving Size 1 Capsule
Servings Per Container 60
Amount Per Serving
Mushroom Synergy Blend 251 mg
Chaga sclerotia extract (Inonotus obliquus), Reishi fruiting body extract, Cordyceps fruiting body extract (Cordyceps militaris), Maitake fruiting body extract (Grifola frondosa)
Herbal Synergy Blend 137 mg
Turmeric root extract (Curcuma longa), Astragalus root extract (Astragalus membranaceus), Schisandra berry (Schisandra chinensis)
Other ingredients: Vegetarian capsule (pullulan)
Not to be used during pregnancy or nursing without consulting your health care provider prior to use. Keep away from children. Safety-sealed for your protection. Keep bottle capped at all times and store in a cool, dry place.