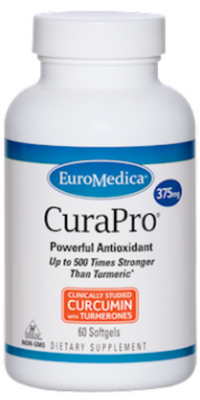 - 60 gels (E90206)
Manufacturer: Euromedica
Product Description:
EQP ® Gold Partner
Equivalent to Up to 10 Capsules of Plain Curcumin†
• Results verified in PUBLISHED, HUMAN
CLINICAL STUDIES
• Supports liver, brain, heart, and immune health
• Protects cells from oxidative stress and free radicals*
• High antioxidant ORAC value > 1,000,000**
• Patent-protected method using curcumin blended
with turmeric essential oil to boost absorption
CuraPro® is up to 10 times better absorbed than standard curcumin, and has an 8-12 hour retention time at significant levels in the bloodstream. This high-absorption formula provides 375 mg of the clinically studied BCM-95® Curcumin, yielding a minimum of 250 mg of curcuminoids per capsule.
Recommendations: 1 softgel daily, may increase as desired or as directed by your healthcare practitioner. If pregnant or nursing, consult a healthcare practitioner before use.
SUPPLEMENT FACTS
Serving Size: 1 Softgel
Servings Per Container: 60
Amount Per 1 Softgel:
Proprietary Complex 375 mg
Curcumin (Curcuma longa) Micronized Rhizome
Extract (BCM-95®), phospholipids, turmeric essential oil, supplying 250 mg of pure curcuminoids
Other Ingredients: medium chain triglycerides, gelatin, glycerin, sunflower lecithin, yellow beeswax, purified water, and turmeric in sunflower oil (softgel color).
No sugar, salt, yeast, wheat, gluten, corn, soy, dairy products, artificial coloring, artificial flavoring, or artificial preservatives. It contains only natural ingredients. Color variations are normal.
All ingredients established in human studies for safety and effectiveness. Does not interfere with stomach, liver or kidney function.
BCM-95® is a registered trademark of Dolcas-Biotech
† Ten 250 mg capsules of curcumin 95%
**Based on independent lab analysis per 100 grams BCM-95®
* THESE STATEMENTS HAVE NOT BEEN EVALUATED BY THE FOOD AND DRUG ADMINISTRATION. THIS PRODUCT IS NOT INTENDED TO DIAGNOSE, TREAT, CURE OR PREVENT ANY DISEASE.