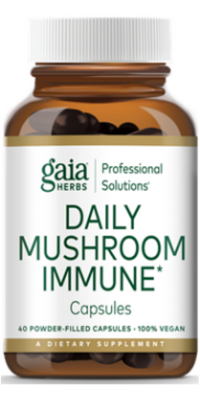 - 40 vegcaps (90Q35040)
Manufacturer: Gaia Herbs
Product Description:
Medicinal mushrooms contain powerful biochemical compounds that can help us stay healthy.*
With a therapeutic strength blend of five potent and powerful immune supporting mushrooms including Reishi, Cordyceps, Turkey Tail, Shiitake, and Chaga, this formula can help your body build its immune defenses so you can stay healthy and thriving all year long.* For best results, this formula should be taken daily as a part of a long-term wellness routine.*
Dietary Considerations
Certified B Corporation
SUPPLEMENT FACTS
Serving size:
1 Capsule
Servings Per Container:
40
Amount Per Serving
Proprietary Mushroom Extract Blend: 425 mg
Organic Shiitake (Lentinula edodes) fruiting body extract
Organic Turkey Tail (Trametes versicolor) fruiting body extract
Organic Reishi fruiting body extract
Organic Cordyceps (Cordyceps militaris) fruiting body extract
Organic Chaga (Inonotus obliquus) sclerotium extract
Beta Glucans 99 mg
Other ingredients:
Vegan capsule (pullulan)
SPECIFICATIONS
Adults take 1 capsule once daily. Benefits build over time.
Not for use during pregnancy or lactation. If you have a medical condition or take medications, please consult with your healthcare practitioner before use. Use only as directed on label. Safety-sealed for your protection. Keep bottle capped at all times and store in a cool, dry place. Natural separation may occur. This does not affect product quality. Store away from children.