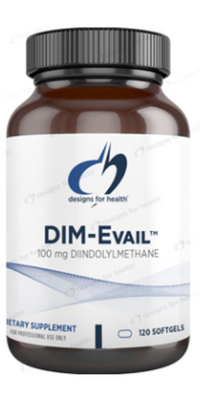 - 120 gels (DIM120)
Manufacturer: Designs for Health
Product Description:
DIM-Evail™ provides 100 mg per softgel of diindolylmethane (DIM), a compound that helps to support healthy estrogen metabolism.* Due to its crystalline structure, absorption of DIM is minimal when given orally. For this reason, DIM-Evail™ has been manufactured utilizing the proprietary Designs for Health Evail™ process, which improves the absorption of DIM. This process utilizes a proprietary blend of MCT oils, non-soy derived lecithin, and vitamin E without the use of potentially harmful surfactants.
Research tells us that a low level of the 2-hydroxyestrone and a high level of 16 alphahydroxyestrone are not desired. DIM works by helping to increase 2-hydroxyestrone and therefore improves the 2/16 hydroxyestrone ratio.*
Dietary Considerations
Dairy/ Milk Free
Gluten Free
Soy Free
Non-GMO
SUPPLEMENT FACTS
Serving size:
1 SoftGel
Servings Per Container:
120
Amount Per Serving
Diindolylmethane (DIM) 100 mg
Other ingredients:
Medium chain triglycerides
Softgel ingredients (bovine gelatin, purified water)
glycerin
annatto [color]
Quillaja extract
DeltaGold® tocotrienols
SPECIFICATIONS
Take one softgel per day with a meal or as directed by your health-care practitioner.
Store at room temperature.
Keep out of reach of children.
Does not contain gluten, dairy, soy, or GMOs.