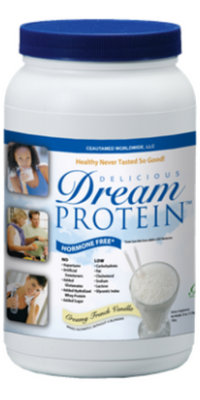 - Vanilla 26.5 oz (GRFDPV)
Manufacturer: Greens First
Product Description:
Dream Protein™ is superior because the protein is not denatured (damaged) from high heat processing. Most processing methods of why cause the proteins to be so denatured that the finished product yields to only a fraction of the biologically active proteins. Dream Protein™ contains all the essential and non-essential amino acids, plus a full spectrum of all the naturally-occurring bioactive compounds such as immunoglobulin (IgG), lactoferrin (LF) and glycolmacropeptides (GMP).
Dietary Considerations
Gluten Free
Non-GMO
SUPPLEMENT FACTS
Serving size:
1 Scoop
Servings Per Container:
30
Amount Per Serving
Calories 90
Cholesterol 15 mg
Total Carbohydrates 3 g
Dietary Fiber 1 g
Total Sugars, less than 1 g
Protein 20 g
Calcium 120 mg
Sodium 40 mg
Potassium 135 mg
Typical Amino Acid Profile:
Alanine 1.31
Arginine 0.55
Aspartic Acid 2.86
Cystine 0.55
Glutamic Acid 4.55
Glycine 0.42
Histidine 0.44
Isoleucine*~ 1.7
Leucine*~ 2.71
Lysine 2.54
Methionine* 0.56
Phenylalanine* 0.78
Proline 1.53
Serine 1.22
Threonine* 1.83
Tryptophan* 0.5
Tyrosine* 0.72
Valine*~ 1.52
Other ingredients:
Whey Protein Isolate, Whey Protein Concentrate, FOS (Fructooligosaccharides), Xanthan Gum Powder, Natural Flavor, Rebaudioside A (From Stevia Leaf Extract)
Contains: Milk
SPECIFICATIONS
Mixing instructions: Add 1 scoop to 6-8 oz of water, milk or your favorite beverage.
For healthy living shake: Add 1 scoop each of Dream Protein and your favorite Greens First flavor to 10-12 oz of cold water. Shake and enjoy!
This product is to be used as a food supplement only. Do not use alone for weight reduction.