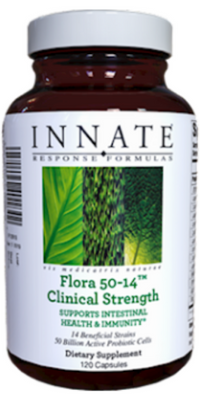 - Clinical Strength 120 vegcaps (40184)
Manufacturer: Innate Response
Product Description:
Flora 50-14™ Complete Care 120 caps
14 Non-Competing Strains/50 Billion Active Probiotic Cells*
100% Whole Food
Dietary Supplement
Supplement Facts
Serving Size: 1 Vegetarian Capsule
Servings per Container: 120
Amount per Serving (100% Whole Food Nutrients)
Each Capsule Contains a Total of 50 Billion Active* Cells Consisting of:
Bifidobacterium longum
Lactobacillus acidophilus
Bifidobacterium infantis
Lactobacillus lactis
Lactobacillus acidophilus DDS-1 *
Lactobacillus reuteri
Lactobacillus salivarius
Lactobacillus brevis
Lactobacillus plantarum
Streptococcus thermophilus
Bifidobacterium bifidum
Lactobacillus bulgaricus
Lactobacillus casei
Lactobacillus rhamnosus
Other Ingredients: Cellulose, Rice Bran, and Water
Suggested Use: 1 or more capsules as needed, or as recommended by your healthcare practitioner.
Free of herbicides, Sugar, Gelatin, Pesticides & Corn
Refrigerate to maintain maximum potency
Clinical Strength – Professional Use Only
– Derived from Raw Foods
– Tested & Assayed for Potency & Purity
– Organically grown
– Nothing artificial or Synthetic
– Tested free of gluten, dairy and soy
– GMP Compliant
– Suitable for Vegetarians
†This statement has not been evaluated by the FDA. This product is not intended to diagnose, treat, cure or prevent any disease.