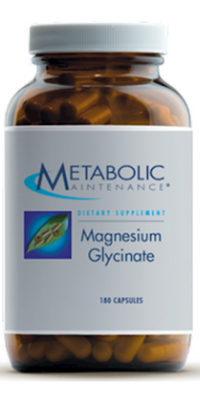 - 180 caps (439)
Manufacturer: Metabolic Maintenance
Product Description:
Does not loosen bowel movements
Dietary Supplement:

Magnesium Glycinate, a highly absorbable form of magnesium, helps maintain muscle, nerve and heart function* Gluten and Excipient-free.
Keep tightly closed in a cool, dry place, out of the reach of children.
DIRECTIONS: Use as a dietary supplement as directed by your healthcare professional.
Supplement Facts
Amount Per Capsule % Daily Value
Vitamin C 10 mg 17%
(as Ascorbyl Palmitate)
Magnesium 125 mg 31%
(as Magnesium Glycinate)
Other Ingredients: vegetarian capsule
*These statements have not been evaluated by the FDA. These products are not intended to diagnose, treat, cure, or prevent any diseases.