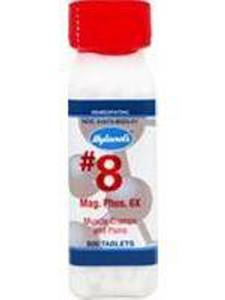 - Homeopathic 500 tab (MAPH6X--T500)
Manufacturer: Hylands
Product Description:
Mag. Phos. 6X 500 tabs
SUGGESTED USAGE:  For symptomatic relief of muscle cramps or menopausal cardiac palpitations, relieves them in approximately 20 seconds. Does not loosen bowels. This product is not a sufficient source for daily magnesium dosing; we suggest additional magnesium capsule intake  or magnesium oil for daily supplementation.
Adults dissolve 4 tablets under tongue four times a day, children 2 tablets four times a day. In acute cases take 4 tablets every hour until relieved, or as directed by a licensed practitioner.
WARNINGS: Do not use if imprinted cap band is broken or missing. As with any drug, if you are pregnant or nursing, seek the advice of a health professional before using this product. If symptoms persist for more than 7 days or worsen, consult a licensed practitioner. Keep this and all medications out of the reach of children. This product made according to the Homeopathic of the United States.