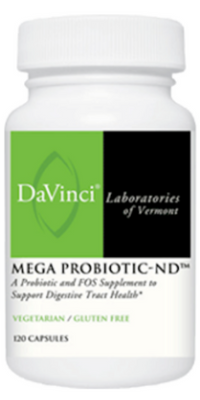 - 120 vcaps (0200346.120)
Manufacturer: Davinci Labs
Product Description:
Mega Probiotic™ ND is a non-dairy probiotic formulation produced from an all-natural source of beneficial microorganisms and FOS to support digestive tract health.*
Dietary Considerations
Gluten Free
Vegetarian
Non-GMO
SUPPLEMENT FACTS
Serving size:
3 Vegetable Capsule
Servings Per Container:
40
Amount Per Serving
Stabilized Nondairy Probiotic Complex (15 billion CFU) 185.65 mg
Fructooligosaccharides (FOS)
Lactobacillus acidophilus
Bifidobacterium lactis
Lactobacillus casei
Streptococcus thermophilus
Bifidobacterium breve
Lactobacillus rhamnosus
Bifidobacterium longum
Bifidobacterium bifidum
Other ingredients:
microcrystalline cellulose
vegetable cellulose (capsule)
ascorbyl palmitate
SPECIFICATIONS
Suggested Use: As a dietary supplement, follow the recommendations below or as directed by your health care practitioner.
Initial: Take amount below twice daily, after breakfast and after dinner until results occur.
Children age 4 and older: 1 capsule
Adults: 2 capsules
Seniors: 3 capsules
Maintenance: Take the above amount once daily after breakfast.
Warning: If pregnant or nursing, consult your health care practitioner before taking this product
Keep out of reach of children. Store at room temperature (below 70° F). Refrigerate after opening. Keep container tightly closed.
Color of this product may vary due to color variations of the natural ingredients.