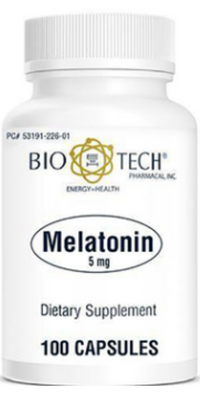 - 100 caps (214A)
Manufacturer: Bio-Tech
Product Description:
• Melatonin is a natural hormone secreted by the pineal gland of the human brain. It is important for maintaining normal circadian rhythms and sleep-wake cycles. Supplementation with melatonin may be beneficial for individuals with altered sleep schedules due to jet lag or shift work. It may also assist those who experience occasional sleeplessness.*
• Natural production of melatonin from the amino acid L-tryptophan may decrease with age. Melatonin is also a potent antioxidant that may support immune, cardiovascular, and bone health.*
Health Benefits:
• Promotes healthy sleep-wake cycles and relaxation*
• Assists with jet lag, altered sleep schedules, and occasional sleeplessness*
• Potent antioxidant that may support immune, cardiovascular, and bone health*
• Available as 1 mg, 3 mg, 5 mg, and 20 mg per capsule
Dietary Considerations
Wheat Free
Dairy/ Milk Free
Gluten Free
Soy Free
Yeast Free
Sugar Free
Preservative Free
Free of Artificial Colors/Flavors
Egg Free
Shellfish Free
Non-GMO
Halal
Fish Free
Tree Nut Free
Peanut Free
SUPPLEMENT FACTS
Serving size:
1 Capsule
Servings Per Container:
100
Amount Per Serving
Melatonin 5 mg
Other ingredients:
Microcrystalline cellulose
Gelatin Capsule
SPECIFICATIONS
One capsule per day or as directed by a healthcare professional.
Contains NO: dairy, egg, fish, shellfish, nuts, wheat, gluten, soy, sugar, yeast, artificial preservatives or colors
Keep out of reach of children.
Store tightly closed in a cool, dry place.
Safety sealed for your protection.