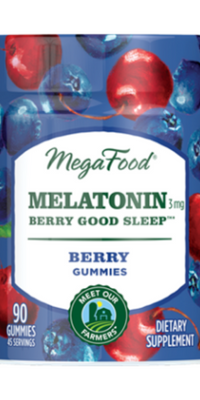 - 54 gummies (10415)
Manufacturer: MegaFood
Product Description:
Supports relaxation and sleep*
What if a yummy gummy could support healthy sleep cycles? Well, it can! Get a taste of Megafood's Melatonin Berry Good Sleep gummies. They're made with organic wild blueberries and tart cherry, both natural sources of phytonutrients, which give them their berry color and a delicious taste—with no artificial flavor.* Give yourself a rest from hard-to-swallow tablets with this delicious pre-bedtime, drop-shaped gummies.
• This product is formulated for adults
• Melatonin naturally supports healthy sleep cycles*
• No high fructose corn syrup, gelatin, or artificial colors
• 2 grams of sugar or less per serving
Dietary Considerations
Dairy/ Milk Free
Gluten Free
Soy Free
Vegan
SUPPLEMENT FACTS
Serving size:
2 Piece
Servings Per Container:
27
Amount Per Serving
Calories 15
Total Carbohydrates 3 g
Total Sugars 2 g
Includes Added Sugars 2 g
Melatonin 3 mg
Organic Wild Blueberry 200 mg
Organic Tart Cherry 100 mg
Other ingredients:
Organic Tapioca Syrup
Organic Cane Sugar
Organic Tapioca Maltodextrin
Apple Pectin
Sodium Citrate
Citric Acid
Organic Coating to prevent sticking (Organic Carnauba Wax)
Organic Coating to prevent sticking (Organic Sunflower Oil)
SPECIFICATIONS
2 gummies 20-30 minutes before bed. May be taken on an empty stomach.
Glyphosate residue free. Gluten free. NSF certified. Vegan. Dairy free. Soy free. Pesticides & herbicides tested.
No high-fructose corn syrup, gelatin, artificial flavors, colors or preservatives of any kind.
Consult a physician before using if you are pregnant or nursing, taking any medication or have a chronic disease.
Do not drive or operate heavy machinery when using melatonin.
Adult use only. Keep out of reach of children.
Store tightly sealed in a cool, dry place.