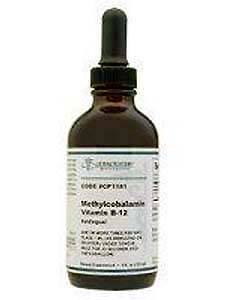 - 4 oz (P1181)
Manufacturer: Complementary Prescriptions
Product Description:
Liquid Vitamin B12 drops 4 oz.
INGREDIENTS:
SERVING SIZE: 1/4 Tablespoon or 1 Full Dropper (1ml)
SERVINGS PER CONTAINER: 120
AMOUNT PER SERVING:
Vitamin B-12 (methylcobalamin) 1000 mcg
Purified water, glycerin, polysorbate 80 cinnamon and cranberry flavoring and ionic copper solution.
Free of added starch, salt, wheat, gluten, corn, coloring, or dairy products.
SUGGESTED USAGE:
Take 1 or more times per day; place 1 ml (1 dropper) under tongue, hold for 30 seconds and then swallow.
WARNINGS:
If you are under a physician`s care or taking medication, or if you are pregnant or nursing, consult your health professional before using this product.