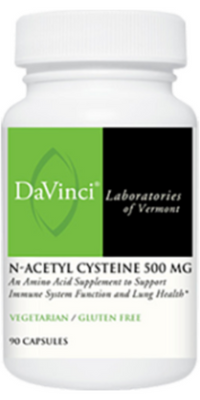 - 90 vcaps (0200290.090)
Manufacturer: DaVinci
Product Description:
An amino acid supplement to support immune system function and lung health.* N-Acetyl Cysteine (NAC) is a non-essential, free form amino acid that is a highly stable form of cysteine. NAC is necessary for the production of glutathione, helps support healthy lung tissue and helps the body's natural defenses including cellular health.*
Dietary Considerations
Gluten Free
Vegetarian
SUPPLEMENT FACTS
Serving size:
1 Capsule
Servings Per Container:
90
Amount Per Serving
N-Acetyl Cysteine 500 mg
Other ingredients:
vegetable cellulose
microcrystalline cellulose
vegetarian leucine
SPECIFICATIONS
Suggested Use: As a dietary supplement, take 1 capsule, 1 – 4 times daily with food or as directed by your health care practitioner.
Warning: If pregnant or nursing, consult your health care practitioner before taking this product
Keep out of reach of children.
Store in a cool, dry place.
This product is vegetarian and free of gluten.
Color of this product may vary due to color variations of the natural ingredients.