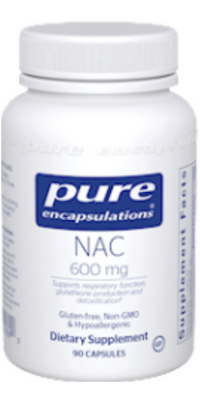 - 90 vcaps (NA69)
Manufacturer: Pure Encapsulations
Product Description:
N-Acetyl-l-Cysteine (NAC) is a cellular antioxidant support that specifically promotes healthy lung tissue. N-Acetyl-l-Cysteine (NAC) is a free radical scavenger that supports glutathione levels in tissues.
• Supports cellular antioxidant defense system*
• Promotes healthy lung tissue*
• Made with hypoallergenic ingredients
Dietary Considerations
Gluten Free
Non-GMO
SUPPLEMENT FACTS
Serving size:
1 Vegetable Capsule
Servings Per Container:
90
Amount Per Serving
N-Acetyl-L-Cysteine (free-form) 600 mg
Other ingredients:
vegetarian capsule (cellulose, water)
ascorbyl palmitate
SPECIFICATIONS
As a dietary supplement, take 1 capsule, 1-3 times daily, between meals.
Gluten-free, Non-GMO & Hypoallergenic
Use only if safety seal is intact. Contents may not fill package in order to accommodate required labeling. Please rely on stated quantity.
Warning: If you are pregnant or lactating, have any health condition or are taking any medication, consult your health professional before use. Keep out of the reach of children.