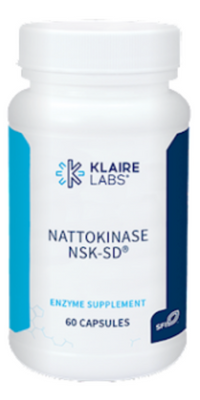 - 60 caps (NTK)
Manufacturer: Klaire Labs
Product Description:
Nattokinase is a proteolytic enzyme whose principle effect is fibrinolysis or degradation of fibrin, a fibrillar protein that when linked together forms the mesh essential for blood clot formation.* Nattokinase also upregulates the body's natural mechanism that guards against excess fibrin formation.* Nattokinase may support healthy blood clotting, circulation, and platelet function by helping to maintain optimum function of the body's normal fibrinolytic processes.* Produced from fermentation of non-GMO soybean isolates by Bacillus subtilis natto. Standardized to fibrin activity units and free of vitamin K.
Dietary Considerations
Wheat Free
Dairy/ Milk Free
Gluten Free
Yeast Free
Preservative Free
Free of Artificial Colors/Flavors
Egg Free
Shellfish Free
Fish Free
Tree Nut Free
Peanut Free
Casein Free
SUPPLEMENT FACTS
Serving size:
1 Vegetable Capsule
Servings Per Container:
60
Disclaimer
Amount Per Serving
Nattokinase NSK-SD®‡ (supplying 2,000 FUΔ) 100 mg
Other ingredients:
Microcrystalline cellulose
vegetarian capsule (hydroxypropyl methylcellulose, water)
L-leucine
silicon dioxide
SPECIFICATIONS
1 capsule, 2 times daily, 12 hours apart, with or between meals. Use is contraindicated in persons with history of bleeding tendency.
Contains: Soy.
Free of the following common allergens: milk/casein, eggs, fish, shellfish, tree nuts, peanuts, wheat, gluten, and yeast. Contains no artificial colors, flavors, or preservatives.
Caution: If you are pregnant, nursing, have a medical condition, or taking prescription drugs, consult your healthcare professional before using this product. Keep out of reach of children.
Do not use if shrinkwrap is broken or missing. Store in a cool, dry place (59°F-85°F) away from direct light.