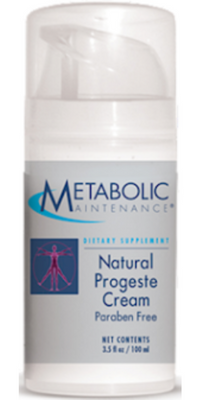 - 3.5 Oz (00643)
Manufacturer: Metabolic Maintenance
Product Description:
Metabolic Maintenance's Natural Progeste Cream contains sweet almond oil for a smoother consistency. The pump system administers the same 20 mg dosage of bio-identical progesterone for a consistent application each time. Rotate the area of application daily between abdomen, chest, inner arms, and thighs for optimal results.
• Provides easy administration of bio-identical progesterone
Dietary Considerations
Dairy/ Milk Free
Gluten Free
Egg Free
PRODUCT INFORMATION
Ingredients: Purified Water, Sweet Almond Oil, USP Natural Progesterone, Candelilla Jojoba/Rice Bran Polyglyceryl-3 Esters, Glyceryl Stearate, Cetearyl Alcohol, Sodium Stearoyl Lactylate, Aloe Vera Leaf Juice, Panthenol (Pro Vitamin B-5), Xanthan Gum, Maltodextrin, Caprifolium. Naturally derived ingredients.
Other ingredients:
purified water
sweet almond oil
USP natural progesterone
candelilla jojoba/rice bran polyglyceryl-3 Esters**
glyceryl stearate**
cetearyl alcohol**
sodium stearoyl Lactylate**
aloe vera leaf juice
panthenol (pro-vitamin B-5)
xanthan gum
maltodextrin
caprifolium***
SPECIFICATIONS
Each full pump dispenses about 1 gram of cream, providing 20 mg of natural, bio-identical USP Progesterone. Apply once or twice a day as needed for 3 weeks out of a month, or as directed by a healthcare professional. Rotate the area of application between chest, abdomen, inner arms and thighs. For external cosmetic use only. Pumps per jar: about 90.