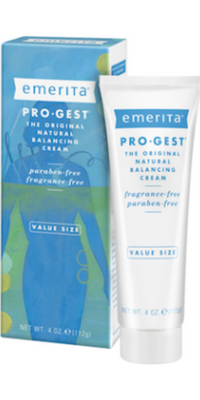 - Paraben-Free 4 oz (30090)
Manufacturer: Emerita
Product Description:
Why is Pro-Gest® Cream so trusted? Maybe because it's been the leader since 1978. For 35 years, women have relied on Pro-Gest® for support at midlife. Emerita single-use size contains 48 single-use packets, designed for convenience. There's no guesswork, and they're easy to take along with you on-the-go. Each packet contains ¼ teaspoon of cream.
Pro-Gest® Cream contains 450 mg of USP Progesterone per ounce (20 mg per 1/4 teaspoon).
Emerita progesterone comes from the Mexican Wild Yam and is converted to pure USP Progesterone (meeting the standards of the United States Pharmacopeia for strength, purity, and quality).
SUPPLEMENT FACTS
Amount Per Serving
USP Progesterone (20 mg per 1/4 teaspoon) 900 mg
Other ingredients:
Water (Purified)
tocopheryl acetate (vit E)
aloe barbadensis (Aloe Vera) leaf juice
carthamus tinctorius (Hybrid Safflower) seed oil
panthenol
glycerin
prunus amygdalus dulcis (Sweet Almond) oil
glyceryl stearate
cetyl alcohol
sodium behenoyl lactylate
stearic acid
UPS progesterone
phenoxyethanol
caprylyl glycol
sorbic acid
carbomer
SPECIFICATIONS
Suggested use: Massage 1/4 to 1/2 teaspoon of cream into skin twice daily for 21 days. Discontinue for seven days and repeat. Individual needs may vary.
Note:
Contains no parabens, mineral oil, petroleum, or animal anything. Our products are not tested on animals.
Warning:
With any product if you experience irritation or discomfort, discontinue use and consult a doctor. The tube inside is sealed for your protection.
California law requires us to state the following:
Warning-
This product contains progesterone, a chemical known to cause cancer. Consult with your physician before using this product.