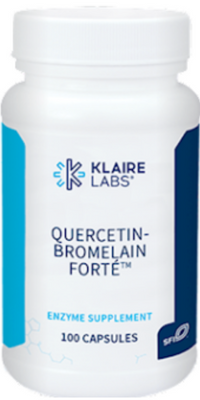 - 100 caps (QBF)
Manufacturer: Klaire Labs
Product Description:
Quercetin-Bromelain Forté™ provides a mixture of proteolytic enzymes and bioflavonoids that help regulate the immune cytokine response.* Quercetin is a powerful bioflavonoid that protects cells and tissues against free radicals.* Bromelain, papain, and pancreatin provide a mixture of protein-specific and other enzymes that help ensure proper breakdown of protein molecules that may otherwise cause irritation.* Vitamin C, buffered with magnesium to eliminate acidity, supports histamine metabolism, detoxification processes, and collagen synthesis.*
Dietary Considerations
Wheat Free
Gluten Free
Soy Free
Preservative Free
Free of Artificial Colors/Flavors
Egg Free
Shellfish Free
Fish Free
Tree Nut Free
Peanut Free
SUPPLEMENT FACTS
Serving size:
2 Vegetable Capsule
Servings Per Container:
50
Amount Per Serving
Vitamin C (as magnesium ascorbate) 200 mg
Magnesium (as magnesium ascorbate) 25 mg
Quercetin (as quercetin dihydrate)(derived from Japanese pagoda tree)(Sophora japonica) (flower bud extract) 500 mg
Rutin (as rutin trihydrate)(derived from Japanese pagoda tree) (Sophora japonica) (flower bud extract) 50 mg
Bromelain (600 GDUΔ) (pineapple enzyme) 250 mg
Papain (300,000 PUΔ) (papaya enzyme) 150 mg
Pancreatin 8X USP (from porcine pancreas) 50 mg
Equivalent to 400 mg pancreatin USP with the following enzyme activity:
Lipase 800 USP Units
Protease 10,000 USP Units
Amylase 10,000 USP Units
Other ingredients:
Vegetarian capsule (hydoxypropyl methylcellulose, water)
Microcrystalline cellulose
Silicon dioxide
Ascorbyl palmitate
Lactose (milk)
SPECIFICATIONS
2 capsules, 1 to 2 times daily or as directed by a healthcare professional. If stomach upset occurs, take with a small amount of food.
If you are pregnant, nursing, have a medical condition, or taking prescription drugs, consult your physician before using this product. Keep out of reach of children.
Do not use if shrinkwrap is broken or missing. Store in a cool, dry place (59°F-85°F) away from direct light.
Free of the following common allergens: eggs, fish, shellfish, tree nuts, peanuts, wheat, and soybeans. Contains no artificial colors, flavors, or preservatives.