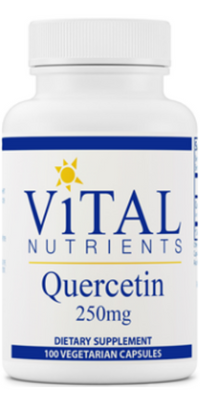 - 100 vegcaps (VNQU)
Manufacturer: Vital Nutrients
Product Description:
• Potent bioflavonoid*
• Promotes healthy enzyme levels*
• Supports normal sinus and respiratory function*
Quercetin has been shown to be one of the most useful and physiologically active flavonoids.* Quercetin helps support stable mast cells to promote healthy inflammatory balance. This potent bioflavonoid can be used for maintaining or supporting the proper levels of enzymes and physiologic factors necessary for normal respiratory and sinus health, to help support seasonal respiratory challenges.*
Dietary Considerations
Wheat Free
Dairy/ Milk Free
Gluten Free
Soy Free
Sugar Free
Egg Free
SUPPLEMENT FACTS
Serving size:
2 Vegetable Capsule
Servings Per Container:
50
Amount Per Serving
Quercetin (as standardized to minimum of 90%) 500 mg
Other ingredients:
Cellulose
Vegetable Cellulose Capsule
Calcium Carbonate
Magnesium Silicate
Ascorbyl Palmitate
Silica
SPECIFICATIONS
Take 2 capsules twice per daily between meals, or as directed by your healthcare professional.
Store sealed in a cool dry place.
keep out of reach of children. Use only if safety seal is intact.
If pregnant, consult your physician before taking.
Excludes: Coatings, binders, gluten (wheat, rye, barely)†, milk/dairy (casein/whey)†, soy protein†, egg protein†, sugar