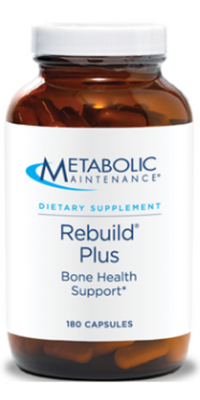 - 180 vcaps (00437)
Manufacturer: Metabolic Maintenance
Product Description:
Maintaining bone health is a critical factor in maintaining mobility and independence as we age. Rebuild® is a full spectrum nutritional product designed to support bone health in patients at risk of osteoporosis. In addition to calcium and magnesium, Rebuild® contains vitamin D, vitamin K, zinc, and trace minerals important to bone health. Deficiencies of these nutrients can slow bone production or accelerate bone loss. Rebuild® Plus contains additional vitamin D-3 for those who need a higher dosage of this important vitamin.*
• Research-based formula to support bone mineral density*
• Formula contains additional vitamin D*
• Metabolic Maintenance's most potent formula to support bone health*
Dietary Considerations
Dairy/ Milk Free
Gluten Free
Egg Free
Tree Nut Free
Peanut Free
SUPPLEMENT FACTS
Serving size:
1 Vegetable Capsule
Amount Per Serving
Vitamin C (as Ascorbyl Palmitate) 10 mg
Vitamin D-3 (333 IU as Cholecalciferol) 8 mcg
Vitamin K (as K-1 and K2 MK-7) 17 mcg
Calcium (as Calcium Citrate/Malate) 167 mg
Magnesium (as Magnesium Citrate) 83 mg
Zinc (as Zinc Citrate) 2.5 mg
Copper (as Copper Gluconate) 0.8 mg
Manganese (as Manganese Glycinate) 0.4 mg
Boron (as Boron Citrate) 300 mcg
Other ingredients:
Vegetarian cellulose capsule
SPECIFICATIONS
Use as a dietary supplement as directed by your healthcare professional.
Keep tightly closed in a cool, dry place, out of the reach of children.