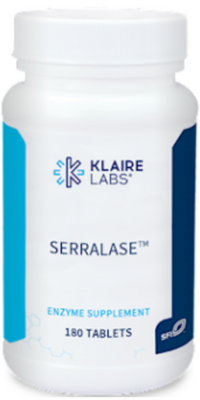 - 180 tabs (SRA180)
Manufacturer: Klaire Labs
Product Description:
Serralase™ provides powerful, vegetarian proteases for use as a systemic enzyme formulation to support tissue repair and maintenance.* Proteolytic enzymes activate cells mediating tissue repair and break down cellular debris associated with inflammation metabolism, thereby supporting healthy vascular permeability, modulating tissue restorative processes, and speeding repair.* Serratia peptidase, a highly active and specific endopeptidase, is widely used to assist recovery after surgery or trauma, support joint function, and assist the respiratory system in breaking down and clearing mucus.* Serratia peptidase also helps protect sensitive gastrointestinal tissue from irritation that can affect tissue health and intestinal comfort.*
Research shows Serratia peptidase breaks down biofilm and favorably modulates the immune response.* Highly purified, stable Serratia peptidase cultured from a bacterial source is used. Bromelain (from pineapple) and papain (from papaya) broaden the proteolytic actions as each enzyme acts at different points on protein molecules. Catalase (bacterial source), a ubiquitous body enzyme, renders hydrogen peroxide harmless. Enteric coating protects enzyme activity against degradation by stomach acid. Serralase™ is more powerful than many similar enzyme formulas, thus fewer tablets may be needed.
Dietary Considerations
Dairy/ Milk Free
Gluten Free
Soy Free
Preservative Free
Free of Artificial Colors/Flavors
Egg Free
Shellfish Free
Fish Free
Peanut Free
Casein Free
SUPPLEMENT FACTS
Serving size:
1 Tablet
Servings Per Container:
180
Amount Per Serving
Proteolytic Enzyme Blend (Supplying the following vegetarian enzymes) 390 mg
Serratia peptidase (Peptizyme SP®‡) 15,000 SPU
Bromelain (pineapple enzyme) 360 GDUΔ
Papain (papaya enzyme) 450,000 PUΔ
Catalase (from Aspergillus niger) 75 IUΔ
Other ingredients:
Microcrytalline cellulose
Croscarmellose sodium
Silicon dioxide
Stearic acid
Magnesium stearate
Enteric copolymer dispersion coating
SPECIFICATIONS
1 tablet, 1 to 3 times daily between meals. Intensive support: 3 to 6 tablets daily between meals or as directed by a healthcare professional.
Free of the following common allergens: milk/ casein, eggs, fish, shellfish, peanuts, and soybeans. Contains no artificial colors, flavors or preservatives. The tablet coating is derived from highly refined coconut oil and/or palm kernel oil that contains no protein. Formulated to be hypoallergenic.
Serralase™ contains systemic proteolytic enzymes (proteases) which work synergistically to assist protein breakdown. Enteric tablet coating protects enzyme activity against degradation by stomach acid.
If you are pregnant, nursing, have a medical condition, or taking prescription drugs, consult your physician before using this product. Keep out of reach of children.
Do not use if shrinkwrap is broken or missing. Store in a cool, dry place (59°F-85°F) away from direct light.