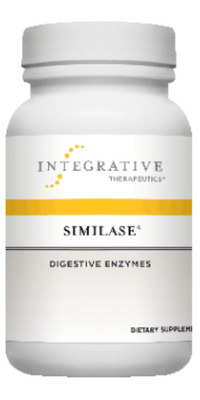 - 180 vcaps (74230)
Manufacturer: Integrative Therapeutics
Product Description:
Similase® is a proprietary blend of Microbial Enzymes that are active across a broad pH range in the gastrointestinal tract.* It provides a broader range of digestive enzymes.*
As a result, Similase provides support of carbohydrate, protein, fat and fiber digestion.*
Dietary Considerations
Dairy/ Milk Free
Vegetarian
Preservative Free
Vegan
Free of Artificial Colors/Flavors
SUPPLEMENT FACTS
Serving size:
2 Capsule
Servings Per Container:
90
Amount Per Serving
Amylase USP (pH 6.8) 21,288 USP
FCC (pH 4.8) 31,932 DU
FCC (pH 4.6) 31,932 DPº
Protease I, II, III, IV USP (pH 7.5) 31,394 USP
FCC (pH 7.0) 56,653 PC
FCC (pH 4.7) 82,000 HUT
Lactase I, II FCC (pH 4.5) 1,600 ALU
Lipase I, II FCC (pH 6.5) 2,200 FIP
Cellulase I, II FCC (pH 4.5) 350 CU
Sucrase (Invertase) FCC (pH 4.6) 936 SU
Phytase FCC (pH 6.0) 1.7 FTU
Other ingredients:
hydroxypropyl methylcellulose (vegetable capsule)
cellulose
magnesium stearate
SPECIFICATIONS
Take 2 capsules at the beginning of each meal, up to 3 times daily, or as recommended by your healthcare professional.
Contains no dairy products, ingredients of animal origin, or artificial colors, flavors, or preservatives.
If you are pregnant, nursing, have diabetes or if you are taking prescription drugs, consult your healthcare professional prior to use. Keep out of reach of children. Safety sealed with printed inner seal. Do not use if seal is broken or missing.