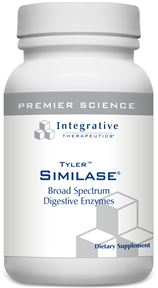 - Digestive Enzymes (74230)
Manufacturer: Integrative Therapeutics
Product Description:
Digestive discomfort impacts people's lives in an immediate way. Anyone with digestive issues is looking for real relief – fast.
The Similase® line of digestive enzymes offers unsurpassed quality and proven effectiveness for trusted results.* The enzymes in Similase products are effective under all gastrointestinal pH conditions, so they support digestion regardless of age, digestive function, and pH balance.*
Physician-formulated Similase has been widely used in clinical practice for over a decade. The formula provides a higher potency and broader range of digestive enzymes than other products.* Unlike animal-derived enzyme supplements, the proprietary blend of Pure Plant™ Enzymes in Similase is acid-stable and active in both acid and alkaline conditions, enabling them to work throughout the stomach and intestines.* As a result, Similase provides superior support of carbohydrate, protein, fat and fiber digestion.*
Similase is perfect for individuals who prefer not to get their digestive enzymes from animal sources.*
Tyler Similase® 90 vcaps
Dietary Supplement
• Broad Spectrum Digestive Enzymes
Supplement Facts
Serving Size: 2 Capsules
Servings per Container: 45
Amount per Serving
Pure Plant Enzymes™ 613 mg; Assay Method
Amylase USP (pH 6.8) 32,000 USP
FCC (pH 4.8) 23,800 DU
Protease I, II, III, IV USP (pH 7.5) 30,000 USP
FCC (pH 7.0) 48,750 PC
FCC (pH 4.7) 82,000 HUT
Lipase I, II FIP (pH 7.0) 2,100 FIP
FCC III (pH 6.5) 970 LU
Lactase I, II FCC III (pH 4.5) 1,600 ALU
Phytase Phytic Acid (pH 6.0) 1.7 PU
Cellulase I, II FCC (pH 4.5) 350 CU
Sucrase (Invertase) FCC (pH 4.6) 300 INVU
Maltase (Malt Diastase) FCC (pH 4.6) 32,100 DPº
Other ingredients: vegetable capsule (modified cellulose) and cellulose.
Recommendations: Take 1 or 2 capsules at the beginning of each meal, or as recommended by your healthcare practitioner.
Not recommended for use if peptic ulcer, gastritis or heartburn is present.
If pregnant, nursing, or taking prescription drugs, consult your healthcare practitioner prior to use.
Contains no sugar, salt, yeast, wheat, corn, soy, dairy products, artificial coloring, artificial flavoring, preservatives, or ingredients of animal origin. This product contains natural ingredients; color variations are normal.
Vegetarian