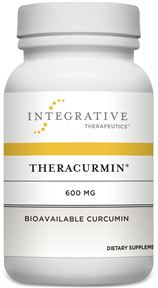 - 45 vcaps
Manufacturer: Integrative Therapeutics
Product Description:
Theracurmin™ 600 mg 45 vcaps
Dietary Supplement
Standard curcumin is poorly absorbed. Theracurmin™ is a unique preparation of turmeric (Curcuma longa) that utilizes patented, natural colloidal dispersion technology to enhance bioavailability and dramatically increase curcumin levels in the blood.*
Its high absorbability suggests that Theracurmin supplementation can maximize curcumin's biological effects, including relief of occasional pain due to overuse and support of the body's natural detoxification and anti-inflammatory pathways.*
Recommendations: Take 3 capsules for 7 days, then reduce dosage to once or twice daily, or as recommended by your healthcare practitioner.
Supplement Facts
Serving Size 1 capsule
Amount per capsule
Total Carbohydrate <1 g
Sugars <1 g
Theracurmin™ 600 mg
(water-dispersible turmeric (Curcuma longa) rhizome)
Other ingredients: dextrin, maltose, vegetable capsule (modified cellulose), cellulose, ascorbyl palmitate, gum ghatti, silicon dioxide and citric acid.
Contains no salt, yeast, wheat, gluten, soy, dairy products, artificial coloring, artificial flavoring, preservatives, or ingredients of animal origin. This product contains natural ingredients; color variations are normal.
Theracurmin™ is a trademark of Theravalues.
*This statement has not been evaluated by the Food and Drug Administration. This product is not intended to diagnose, treat, cure, or prevent any disease.