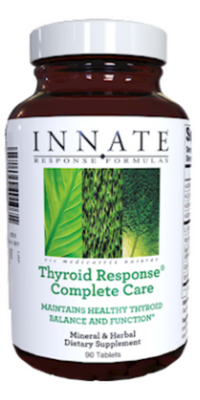 - 90 Tablets (40107)
Manufacturer: Innate Response
Product Description:
Mineral & Herbal Dietary Supplement:
• Supports healthy thyroid function*
• Blended with FoodState Nutrient minerals for enhanced digestibility and nutritional value*
• Nourishing ingredients including L-Tyrosine, Coleus forskohlii and kelp*
• Adaptogenic support including Sensoril®
• Ashwagandha and holy basil
At INNATE Response we share your belief that nothing is more important than supporting your body's innate ability to heal. To that end, we develop nutrient-rich supplements. This INNATE Response product is made with real food, carefully selected herbs and added nutrients. Each mineral is paired with an ideal whole food using our unique process to deliver guaranteed potency and the benefit of health-promoting compounds present in the whole food itself.* Satisfaction guaranteed or your money back.
SUPPLEMENT FACTS
Serving Size: 2 Tablet
Servings Per Container: 45
Amount Per Serving:
Iodine (mineral bound S. cerevisiae) 150 mcg 100%
Zinc (mineral bound S. cerevisiae) 8 mg 73%
Selenium (mineral bound S. cerevisiae) 70 mcg 127%
Copper (mineral bound S. cerevisiae) 0.35 mg 39%
L-Tyrosine 300 mg
Holy Basil Leaf Extract (Ocimum sanctum) 250 mg
Sensoril®† Ashwagandha Root & Leaf Extract (Withania somnifera / 8% Withanolides) 250 mg
Coleus Forskohlii Root Extract (Coleus forskohlii) 150 mg
Organic Kelp Fronds (Laminaria digitata) 125 mg
Other ingredients:
Cellulose
Silica
Stearic Acid
Maltodextrin
Guar Gum
Dietary Considerations:
Dairy/ Milk Free
Gluten Free
Kosher
Vegetarian
Soy Free
Non-GMO
Certified B Corporation
Specifications:
Suggested Use: 2 tablets daily, or as directed by your healthcare practitioner. May be taken anytime throughout the day, even on an empty stomach.
B Corp, Internal Non-GMO, Glyphosate Residue Free, Herbicide/Pesticide Free, Internal Gluten Free, Vegetarian, Kosher, Dairy/Soy Free