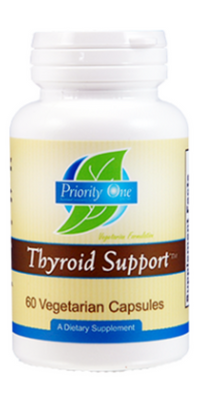 - 60 vcaps (1654)
Manufacturer: Priority One Vitamins
Product Description:
Essential nutrients to healthy thyroid function.*
Thyroid Support is a complete vegetarian supplement supplying all the essential nutrients to healthy thyroid function.*
Dietary Considerations
Vegetarian
Preservative Free
Non-GMO
SUPPLEMENT FACTS
Serving size:
2 Vegetable Capsule
Servings Per Container:
30
Disclaimer
Amount Per Serving
Thiamine HCL (vitamin B1) 30 mg
Riboflavin (vitamin B2) (as riboflavin 5 phosphate) 50 mg
Niacin/Niacinamide (50/50) 52 mg
Iodine (as potassium iodide) 450 mcg
Magnesium (as magnesium aspartate/oxide) 40 mg
Zinc (as zinc picolinate/chloride) 10 mg
Manganese (as manganese citrate/carbonate) 2 mg
Potassium (as potassium aspartate/carbonate) 40 mg
Guggul (gum)(Commiphora mukul) (10% guggulsterones) 250 mg
L-Tyrosine 250 mg
L-Aspartic Acid 200 mg
Other ingredients:
Rice chelate
silicon dioxide
vegetarian capsule (hypromellose, purified water)
SPECIFICATIONS
Take two (2) capsules daily or as directed by a physician.
Contains no preservative, non-GMO. Bisphenol-A (BPA) & Phthalate Free
If you are pregnant or breast feeding, consult your physician before using this product.
Keep container tightly closed, store in a cool, dry place. Keep out of reach of children.