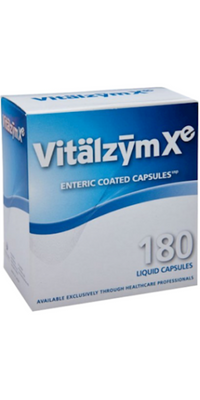 - Enzymes 180 caps (67180)
Manufacturer: World Nutrition
Product Description:
Enzyme Dietary Supplement
Supplement Facts
Serving Size: Three (3) Capsules
Servings per Container: 60
Amount per Serving:
Proprietary Enzyme Blend 324 mg
– Proprietary Blend contains: Bromelain, Papain, Rutin, Amylase, Protease, Lipase, Amla Extract, Serrapeptase.
Other Ingredients: Medium-chian Triglycerides, Starch, Glycerin, Polysaccharide, Corn protein, Beeswax, Glycerin Fatty Acid Ester, Soy Lecithin, Citric Acid.
Recommended: As a dietary supplement, take three (3) capsules daily, or as recommended by your healthcare professional.
Warning: Do not take this product without the consent of your healthcare professional if you are currently taking anticoagulants. Discontinue use 2 weeks prior to surgery.
Vegetarian formula.
Store in a cool, dry place with lid tightly closed.
Keep out of reach of children.