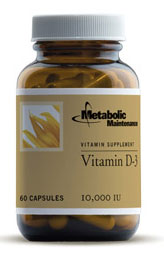 - [10,000 IU] 60 caps (VID14)
Manufacturer: Metabolic Maintenance
Product Description:
Vitamin D-3 10,000 IU 60 caps
Dietary Supplement
Supplement Facts
Serving Size: 1 capsule
Servings per Container: 60
Amount per Capsule:
Vitamin C (as ascorbic acid) 300 mg
Vitamin D-3 (as cholecalciferol) 10,000 IU
Other Ingredients: vegetarian capsule, L-leucine,
Physician monitoring of vitamin D level recommended.
Directions: One (1) capsule daily with meal as a dietary supplement or as directed by a doctor.
Caution: Pregnant or lactating women, consult your healthcare professional before taking this product.
Each preservative-free vegetarian capsule contains only the active ingredients listed on the label. Excipient-free.
Storage: Keep tightly closed, in a dry place. Do not expose to excessive heat.
Keep out of the reach of children.