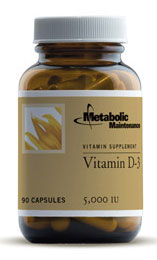 - 90 caps (VID2)
Manufacturer: Metabolic Maintenance
Product Description:
Vitamin D-3 5000 IU 90 vcaps
Dietary Supplement
Supplement Facts
Serving Size: 1 capsule
Servings Per Container: 90
Amount Per Serving:
Vitamin C 300 mg
(as Ascorbic Acid and Ascorbyl Palmitate)
Vitamin D 5,000 IU
(as Cholecalciferol)
Other Ingredients: vegetarian capsule
Directions: One (1) capsule daily with a meal as a dietary supplement, or as directed by a doctor
Caution: Not intended for use by pregnant or lactating women.
KEEP OUT OF REACH OF CHILDREN
STORAGE: Keep tightly closed, in a dry place. Do not expose to excessive heat.
Each preservative-free vegetarian capsule contains only the active ingredients listed on the label.
Excipient-free
Physician monitoring of vitamin D level recommended. The 25-hydroxyvitamin D level is the main indicator of vitamin D status.