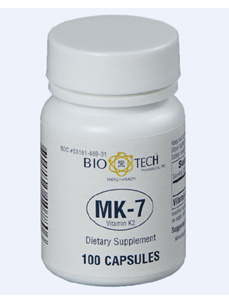 - 100 caps (B07806)
Manufacturer: Bio-Tech
Product Description:
MK-7 (Vitamin K2) 150 mcg 100 caps
Dietary Supplement
Supplement Facts
Serving Size: One (1) Capsule
Servings per Container: 100
Amount per Serving
Vitamin K2 150 mcg
(Menaquinone-7 in a natto complex)
Inactive Ingredients: Microcrystalline cellulose.
Contains no gluten, sugar, dye or preservative. Contains soy-derived ingredients.
Suggested Use: One capsule or more daily.
Safety Sealed for your protection.
Store tightly closed in a cool, dry place.
Keep out of reach of children.